Now that it is officially Summer and the weather is getting better (hopefully!), there are lots of sustainability events happening!
If you would like to add an event please get in touch at hello@purposehub.ie
---
What: Clean Coasts Week
Celebrate Ireland's spectacular coastline by getting involved in Coca-Cola Clean Coasts Week 2017. The week runs from June 2nd – 11th and there are lots of ways for you to get involved.
You can create your own beach clean event or participate in one. Free clean-up kits are available which include gloves, bags, data collection cards, posters and high-vis vests. There will be free coastal celebration events taking place around the country as well.
Where: Coastlines around Ireland!
More Info: http://cleancoasts.org/our-initiatives/clean-coasts-week/
---
June 3rd
What: Pickling Workshop
Summer is in full swing at The Fumbally Stables and one of their most unique events happening this month is a pickling workshop. This workshop will look at the basic principles of pickling, the health benefits of fermented pickles, tasting a number of funky things and making a seasonal pickle, which you will get to bring home. Fumbally will provide all of the ingredients. All you need to bring is a jar!
Where: The Fumbally Stables, Dublin 8
More Info: http://thefumballystables.ie/workshops-events/ 
---
 June 5th
What: World Environment Day
World Environment Day is the United Nations' designated day for encouraging worldwide awareness and action for the protection of our environment. The theme for 2017 is connecting people to nature. You can register events on the website, or download a toolkit to help you take action.
Where: Everywhere!
More Info: http://worldenvironmentday.global/
---
What: Information Tour of the Boiler House at The Rediscovery Centre
The Rediscovery Centre is a unique educational space and an innovative experience that will demonstrate excellence in reuse for Ireland. It challenges conventional thinking about how we live, stimulates positive behavioural change and highlights how we can use our resources wisely to achieve a low carbon, sustainable society. 
Where: Rediscovery Centre, Ballymun, Dublin 9
More Info:  Rediscovery Facebook Page
---
What: World Oceans Day
Participate in a World Oceans Day event or activity this year and help protect the ocean for the future!
Where: Everywhere!
More Info:  http://www.worldoceansday.org/about
---
What: Bike Week
Bike Week is a celebration and promotion of all that's great about bikes and cycling. Held over a week in June of each year with bike themed events organised by local authorities, community groups and cycling groups throughout Ireland.
Where: All over Ireland
More Info: http://www.bikeweek.ie/events
---
June 10th
What: Dublin Community Growers Food Cycle
Hop on your bike and follow the Food Cycle around some of Dublin's Community Gardens. Start where you want, stop where you want!
Where: Dublin
More Info: http://dublincommunitygrowers.ie/
---
What: Foraging Workshop
Led by foraging expert Mary White, participants will enjoy a day of 'find it, cook it, eat it.' The workshop will include lots of lunch recipes and handouts!
Where: Blackstairs EcoTrails, Carlow
More Info: https://www.blackstairsecotrails.ie/
---
What: Street Feast
Want to get to know your neighbours and local community? The brilliant Street Feast is back and bigger than ever for 2017. Street Feast is Ireland's annual day of street parties & community lunches. You can take part in a registered event or host your own party with your neighbours on Sunday 11th June. Register your feast on the Street Feast website and you will be sent a free party pack to help you get started. This is the 8th year of Street Feast; last year over 120,000 people took part in 1,215 Street Feasts!
Where: Everywhere!
More Info: http://streetfeast.ie/
---
What: Quietways – A New Way to View Our City
Councillor Paddy Smyth, of Dublin City Council, will talk about his proposals for 'Quietways' in the Dublin City area. These are, primarily, routes for school children to walk/cycle to and from school via quiet, residential streets through the use of a concept known as "Filtered Permeability".
Public meeting. All welcome.
Where: 8pm, Central Hotel, Exchequer Street, Dublin 2
More Info: http://www.dublincycling.ie/events/quietways-%E2%80%93-new-way-view-our-city
---
June 15th
What: Introduction to Furniture Upcycling 
Have you always wanted to know how to give your furniture a new lease of life? With this introduction to furniture upcycling, tutor Ger Griffin will teach you all the skills you will need to make over your furniture.
Where: Rediscovery Centre, Ballymun, Dublin 9
More Info:  https://www.eventbrite.ie/e/introduction-to-furniture-upcycling-tickets-33732814757
---
June 16th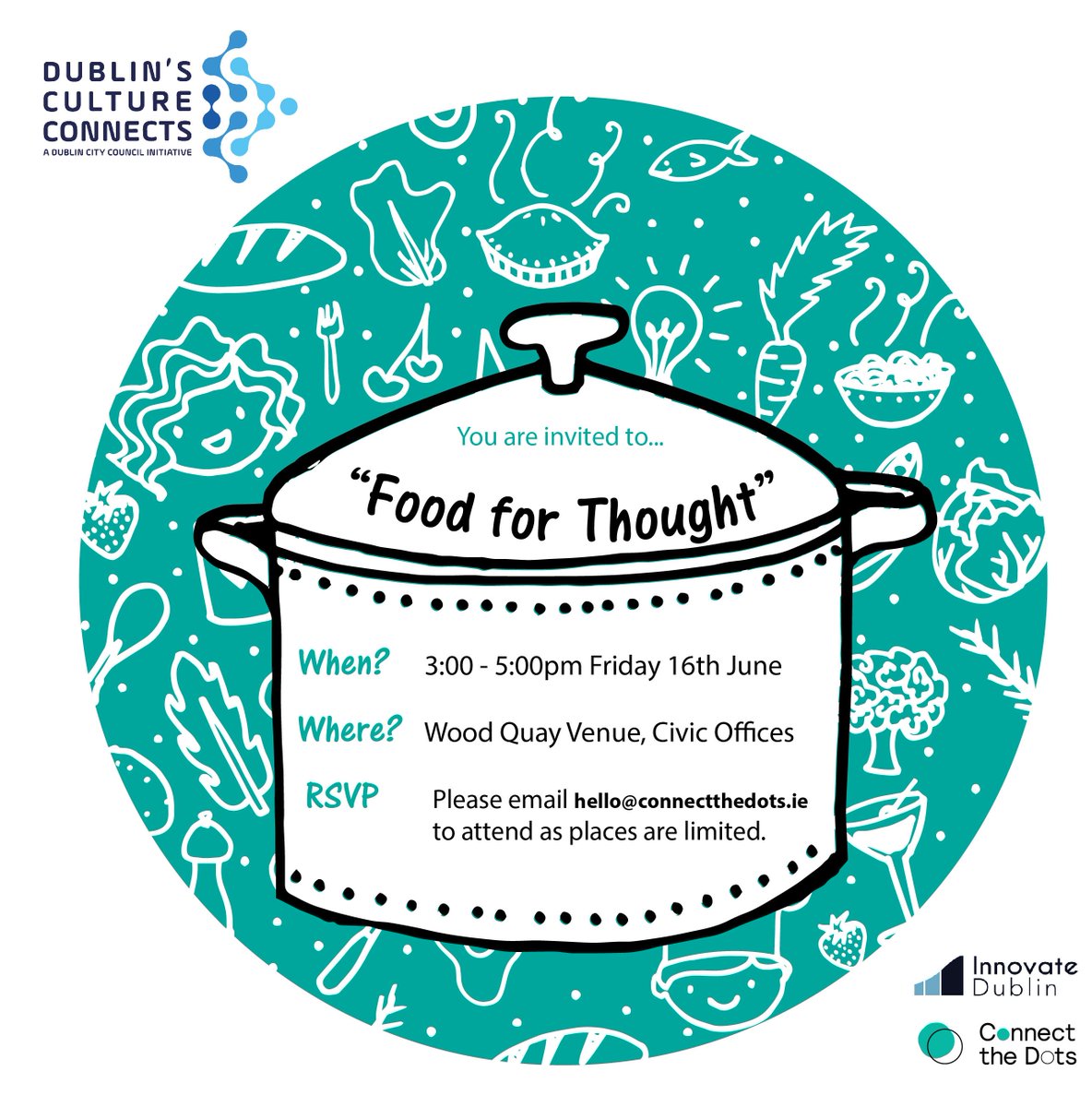 What: 'Food for Thought'
As part of the EU Lab project, a conversation for people engaged in food culture in Dublin will take place from 3.00pm – 5.00pm at the Wood Quay Venue, Dublin City Council Civic Offices, on Friday 16 June 2017.  This event will explore the potential of developing an EU-funded project around food culture in Dublin. People engaged in food in Dublin will gather at the workshop to share perspectives and ideas.
The event will discuss food culture in Dublin that values being consciously creative, environmentally sensitive, and socially responsible.
Where: Wood Quay Venue, Dublin City Council
More Info: http://www.dublinscultureconnects.ie/mining-ideas-eu-funded-projects-food-culture-dublin/
---
What: Zero Waste Festival
Dublin's first Zero Waste Festival will include Talks, Work Shops, Screenings, Meet Ups, Info Stands, a Market and a Swap Shop. This will be a great chance to network and meet other members of the community as well as share your ideas and skills and learn something new.  Whether you are new to the idea of zero waste or have been practicing all your life there will be something for everyone here.
Tickets coming soon.
Where:  Inchicore Sports and Social Club, Dublin 8
More Info:  Zero Waste Festival Facebook Page 
---
Throughout June
What: Grow HQ are hosting another impressive suite of events throughout June. These include:
Yoga
Meditation
Cooking for Kids and Adults
Growing
Horticulture
Fermentation
Where: Grow HQ, Waterford
More Info: https://shop.giy.ie/collections/courses-for-june-2017
---